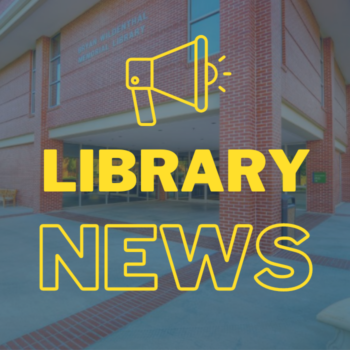 Dr. Ryan Luna is first recipient of SRSU's Outstanding Scholar Award
Posted by

Categories

news

Date

October 27, 2022
-via SR News-
Dr. Ryan Luna, the chair of the Department of Natural Sciences and an associate professor at Sul Ross State University, is the first recipient of the Outstanding Scholar Award.
The annual award, which recognizes outstanding research or artistic achievement, is endorsed by the Office of the Provost and is open to any full-time tenured or tenure-track professor who has been at SRSU for at least three years. A task force convened by the provost and the deans evaluates the applications. The award includes a $2,000 prize and special recognition.
"I congratulate all faculty who participated in Sul Ross's first Outstanding Scholar Award and I commend Dr. Ryan Luna, a prolific writer and researcher who has produced an impressive amount of peer-reviewed scholarship," said Dr. Bernie Cantens, executive vice president and provost. "Research is an integral element of higher education, and while teaching remains the essence of the faculty's responsibility, we must also celebrate the excellent research that compliments faculty teaching."
Dr. Luna came to Sul Ross State in July 2013. His research involves quail ecology. He is a Kelly R. Thompson Endowed Professor of Quail Management with the Borderlands Research Institute (BRI) at SRSU.
"Research is an important facet for university growth and recognition. Sul Ross State University supports research by our faculty, and the majority of those in Natural Resource Management have a research appointment with BRI," said Dr. Luna. "With the opportunities that we have at Sul Ross, faculty and graduate students can be on the cutting edge of research in the Trans-Pecos and beyond. Additionally, our undergraduates have great opportunities through the McNair Scholars Program and BRI's Undergraduate Mentorship Program (BUMP) to gain valuable skills that set them apart from the masses."
Dr. Luna received a Bachelor of Science degree in zoology with a minor in chemistry in May 2001 from Texas Tech University. His Master of Science in biology was completed in December 2007 at the University of Texas at San Antonio. He received his doctorate degree in Aquatic Resources and Integrative Biology from Texas State University in May 2013. His dissertation focused on the body size, rumen-reticulum functions and dietary nutrition of white-tailed deer.
In his application, Dr. Luna wrote that most of his current and past research has been conducted on private lands. "I then use our research to make reports for landowners to improve quail numbers on their properties. As a result of the numerous field projects that we have ongoing at any one time, undergraduates are able to volunteer, work as a paid technician, or be affiliated with BUMP or McNair projects on my field sites. This allows students to gain valuable skills and get a taste of field work to help them determine if this is the right career path for them."
Dr. Luna has 20 manuscripts published in peer-reviewed journals, 22 popular articles, three book chapters in press, and has been a presenter or affiliate at 76 professional conferences. He has six manuscripts in preparation for submission to appropriate journals.
The Bryan Wildenthal Memorial Library will host a display of Dr. Luna's research along with the other applicants on the second floor until Nov. 4. Faculty scholarship is also posted to the SRSU Library and Archives Digital Collections and can be found online at https://digitalcollections.sulross.edu.
The public is always welcome at the library.