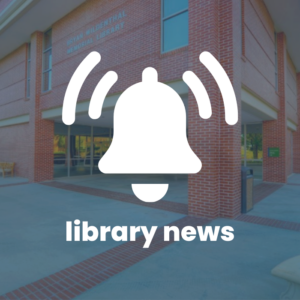 Welcome Back Spring 2022 + Systems Status Dashboard
-via Mike Fernandez, Systems Librarian-
The Bryan Wildenthal Memorial Library on the Alpine Campus welcomes you to the Spring 2022 semester. We're open and ready to assist you online and in-person. Drop by, call us (432-837-8123), or email SRSULibrary@sulross.edu for assistance. For Archives-specific requests, email SRSUArchives@sulross.edu. A few announcements from my area:
Systems Status Dashboard
Over the break, we implemented the Library Systems Status Dashboard, which is also featured on the library's homepage, library.sulross.edu. From the Dashboard, you can access real-time status updates about our resources including any outages or reported issues, as well as updates on new and existing systems.
"Report a Broken Link" Form 
You may have already noticed this new button while reviewing search results in QuickSearch. Access issues with a specific resource? Click the "Report a Broken Link" button associated with that resource to launch the Report a Broken Link form and let us know. The form is quick and easy to use, as it will autofill the citation information of the resource in question. Provide your contact information for a follow-up: We will investigate the issue and send you a working link to the material if available within 48 hours.
These features are designed to improve everyone's access experience by making it easier for us to communicate and respond to interruptions in service. Please direct any feedback to me, the Systems Librarian, Mike Fernandez, at Miguel.fernandez@sulross.edu or 432-837-8738.