Melleta Bell honored by the Texas Historical Records Advisory Board
Posted by

Categories

news

Date

October 7, 2021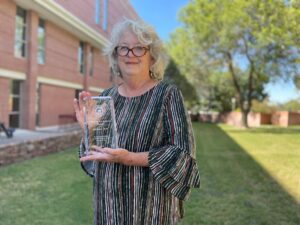 Austin, TX – The Texas Historical Records Advisory Board (THRAB) is pleased to announce its archival award recipients for 2021. THRAB has selected Dallas Historical Society (DHS) Registrar, Kaitlyn Price, as the recipient of the Archival Award of Excellence. Senior Archivist at Archives of the Big Bend, Melleta Bell, has been named as the recipient of the Advocacy for Archives Award.
Kaitlyn Price has demonstrated excellence in archival work, especially in response to challenges brought on by the 2021 statewide winter storm. Price has provided superior research services even while the building housing the Dallas Historical Society was closed for renovations following a flood from burst pipes. She immediately implemented an emergency plan to secure and preserve the collections during the recovery period. Among Price's other notable achievements was her successful effort to enhance access to DHS collections by joining the consortium Texas Archival Resources Online (TARO) as a participating organization.
Advocacy for Archives Award recipient Melleta Bell has become well-known in the Alpine area for preserving and promoting regional history through her post at Archives of the Big Bend at Sul Ross University. Bell has devoted her career to connecting archives to local history and has served as an advocate in her community. Bell has raised the profile of her collections through media opportunities and by adding materials to the Portal of Texas History.
Both award recipients will be recognized at the Texas Historical Records Advisory Board's October meeting. Awards are announced annually in conjunction with Texas Archives Month. Learn more about Texas Archives Month activities at https://www.tsl.texas.gov/arc/thrab/archivesmonth.
About the Texas Historical Records Advisory Board (THRAB)
THRAB serves as an advisory body for historical records planning and supports efforts to preserve and provide access to archival collections throughout the state. Funding for THRAB is provided by the National Historical Publications Records Commission, the grant-making arm of the National Archives and Records Administration. The state archivist is appointed by the governor to preside over the nine-member board.
For more information on the Archival Awards or other THRAB activities visit www.thrab.org.